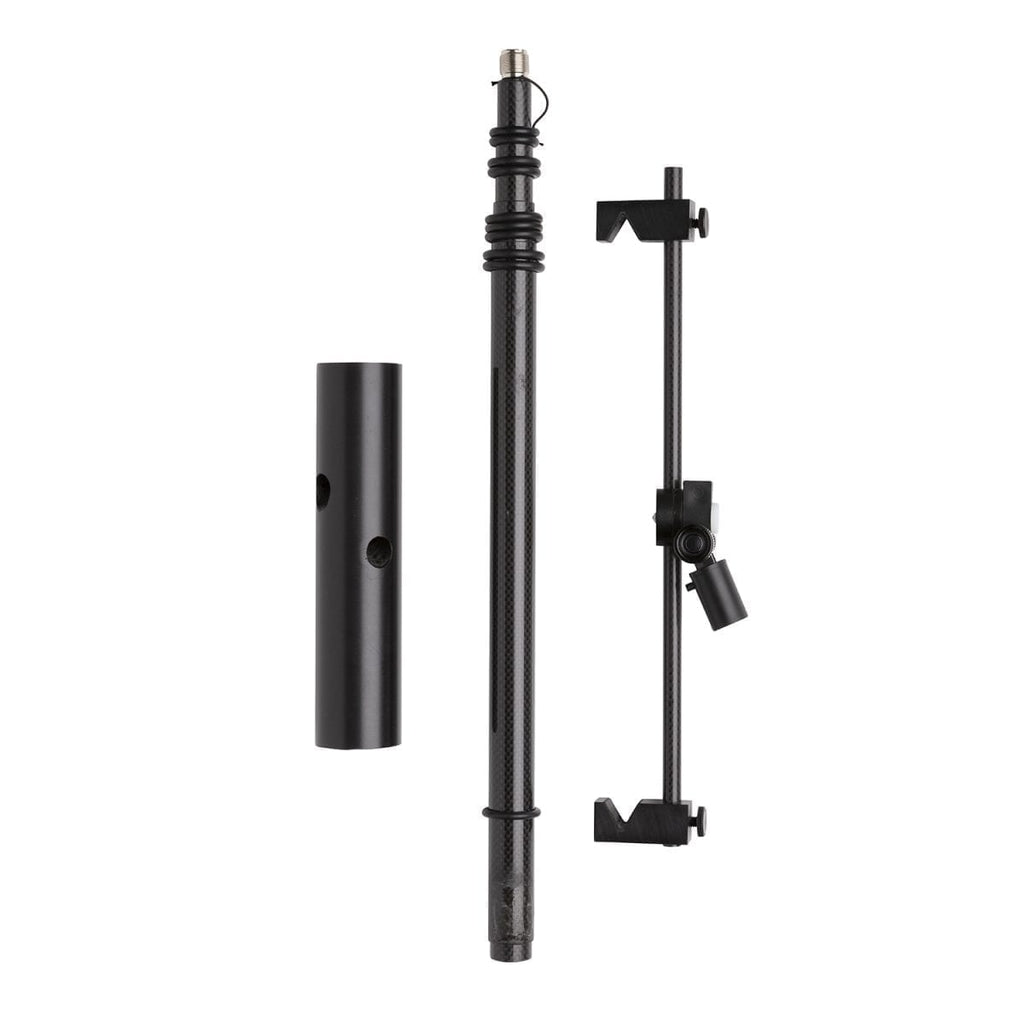 WoodWind Design Tablet Stand
$367.24
WoodWindDesign's tablet stand is a combination of the WoodWindDesign carbon fiber microphone stand and the carbon tablet holder, and is to be used as either a microphone stand or a tablet stand.
With the new carbon fiber stand for microphone, WoodWindDesign fullfils a long standing wish of many travelling musicians: A smart, light, small and reliable mic stand that fits in a back pack.
Core of this innovative product is a system of eight nesting carbon fiber tubes (diameters 10 mm to 24 mm). The four smallest and narrowest tubes make the four legs. (Three legs is only in theory more stable, four legs provide a bigger footprint with shorter legs). The legs -with noise reducing and non slippery solid rubber feet-  fit in four holes in the Delrin base of the stand. The main vertical pole consits actually of the four other nesting tubes. An extremely simple but effective friction system gives the stand its incredible flexible working height between 63 cm and 170 cm (24″ – 67″), while the transport dimension is only 47 cm ( 18″).
The each of the three friction units between the tubes will carry  3 kg (6.5 lbs) but still these are very easy to handle.
On top of the vertical pole you will find the the removable plug underneath which you can store the four legs during transportation, making it possible to harbour eight carbon fiber tube in as small as one 24 mm tube of 47 cm. This plug is also the 3/8  threaded connector for your microphone clip (not included), the stand comes with a 5/8 thread adapter.
The stand is very light, only 630 grams (1.4 lbs) but the extremely low centre of gravity combined with the big footprint give it an excellent stability. Moreover, there is the possibility to even enhance the stability for extreme circumstances, by adding weight to the base. This can be done with for instance filled flexible water bottles (not included).
The small, light and secure tablet holder, is to be used together with the WoodWindDesign carbon fiber microphone stand, together they form the tablet stand.
Length of the tablet holder is 33 cm, max clamp dimension 31 cm ( Ipad pro 12.9″ is 28 cm).
Your tablet can be used in portrait as well as landscape orientation, by adapting the upper tablet clamp. In either situation there is a clamp under the tablet, which is safer for your valuable equipment than two clamps from the left and right. In this way the tablet holder provides a good grip on any tablet with or without cover, as well as even a smart phone. Both tablet clamps are mounted on a carbon fiber tube, and fixed directly onto this tube with easy to handle plastic screws. Tilt can be adjusted to your specific wishes.
Hand made in the Netherlands.
Weight: 720 grams
Transport length: 47 cm
Working height: 63 cm – 170 cm