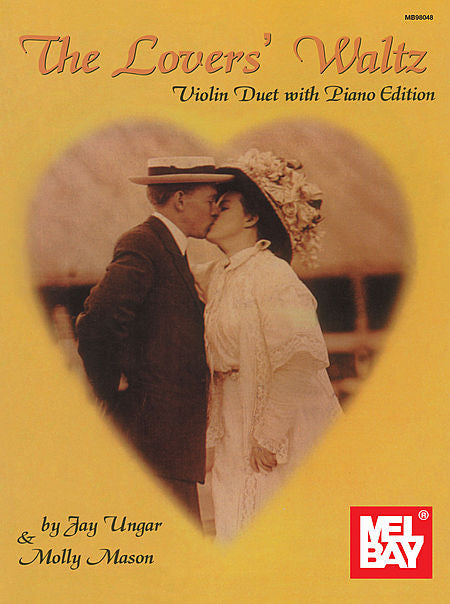 Ungar and Mason-The Lover's Waltz
$9.95
The Lover's Waltz (Violin Duet with Piano edition). Composed by Molly Mason and Jay Ungar. For violin duet (or solo) and piano accompaniment. Saddle-stitched, Duets. Love. Beginning-Intermediate. Violin duet book. Solo part, harmony part, standard notation and piano accompaniment. 9 pages. Published by Mel Bay Publications, Inc (MB.98048).
ISBN 9780786643509. With solo part, harmony part, standard notation and piano accompaniment. Love. 8.75x11.75 inches.
Composed and arranged by Jay Ungar and Molly Mason, this beautiful, romantic waltz is the title cut of their critically acclaimed CD on Angel Records. This melody has become one of their most requested tunes in concert. Perfect for weddings, this carefully prepared violin solo or duet arrangement with piano accompaniment presents the theme 3 times through, beginning in G and modulating D. The piano/violin score also includes suggested guitar chords. The arrangement accurately captures the rhythms, harmonies and chord voicings of Jay and Molly's concert and recorded performances. Convenient pull-out parts are provided for the violinists. Jay Ungar is nationally recognized for having composed and performed Ashokan Farewell, the theme of the PBS series "The Civil War." The Lover's Waltz is also available in a solo piano edition by Molly Mason.