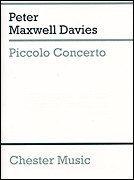 Piccolo Concerto : Peter Maxwell Davies Study Score
$39.95
This is a special import item.
Orchestral study score. 

This work was commissioned by the Royal Philharmonic Orchestra. It was first performed on 23 April 1997, by Stewart McIlwham and the Royal Philharmonic Orchestra, conducted by the composer. The three movements should be played without a break.

The piccolo may have obvious limitations as a solo instrument, but Davies is not one to shirk a challenge. What he does is to play with the stereotypical modes of the instrument, so that the military pipe and drum effect is hinted at near the beginning of the third movement, while the jaunty manner is recalled at the close of the first, but as through a veil. A potentially comic partnership with the bass clarinet is also dignified when the two instruments engage in meditative dialogue in the second movement.