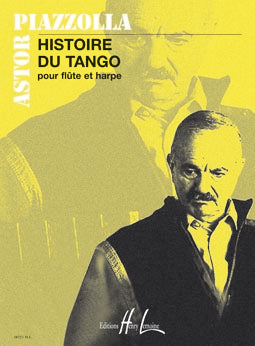 Piazzolla , Astor : Histoire Du Tango
$46.99
Flute and Harp
An edition for harp and flute of Astor Piazzolla's "Histoire du Tango" arranged by Kari Vehmanen. Piazzolla was an composer of Argentinean tango nuevo, which incorporates elements of jazz and classical music into the traditional tango dance form.
This work is suitable for advanced pedal harpists and consists of several movements: Bordel 1900, Café 1930, Night-Club 1960 and Concert d'aujourd'hui.
The movements in this work flow through the historical transformations of the "tango" as a dance and musical form, leading the listener on a musical journey through the tango's development. The collection includes an introduction with some excellent notes on the style of tango represented in each piece which aids the performers in their own musical interpretations of each work.
Includes score for harpist and separate part for flute. Score is 31 pages. These pieces could be played as separate solos or as a suite.