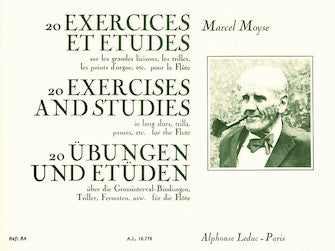 Moyse, Marcel : 20 Exercices Et Etudes
$30.95
Moyse provides the perfect study book for advanced flautists. With instructions in French, English and German, 
20 Exercises and Studies for the Flute
 cannot be missed. French flautist, Marcel Moyse (1889-1984) studied with virtuosos Philippe Gaubet, Adolphe Hennebains and Paul Taffanel at the Paris Conservatoire. Moyse went on to become principal flute of various orchestras and became known for his trademark tone: clear, flexible and penetrating, controlled by a fast vibrato. As well as performing, Moyse also taught the flute and published a substantial number of study books for the instrument. 
20 Exercises and Studies
 focuses on elements including long slurs, trills and pauses. Being a prominent flute player himself, Moyse's 
20 Exercises and Studies
 is well-informed and essential to aspiring, advanced flautists.