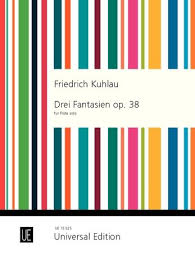 Kuhlau, Friedrich : Drei Fantasien Op. 38
$26.95
Kuhlau composed his "Three Fantasies" in 1820 while in Vienna.

 
The pieces contain all possibilities of expressive and virtuoso flute playing and are therefore one of the best examples of early romantic music for flute.

 
The first and second fantasies end with an "Arietta con Variazioni", the third fantasy with a "Romanza con Variazioni", the themes of which come from Mozart's Don Giovanni.

 
The edition reproduces the original text.