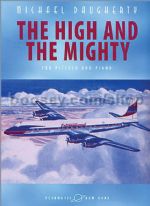 Daugherty, Michael : The High and The Mighty
$19.95
Commissioned by the National Flute Association, 
The High and the Mighty
 has become a staple of the piccolo repertoire. The work is inspired by the years following World War II in America (1945-1961), when air travel was considered luxurious and glamorous. The work is in two movements - the first features a soaring, lyrical tune that is flutter-tongued; the second begins with an angular cadenza that is followed by a robust high-altitude bossa nova.