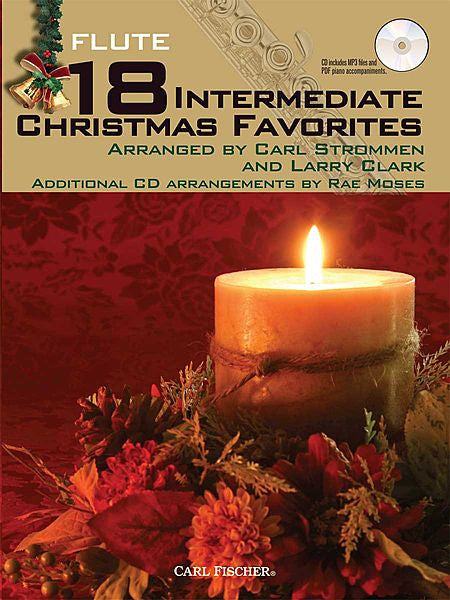 18 Intermediate Christmas Favorites
$14.99
18 Intermediate Christmas Favorites - Flute arranged by Larry Clark Carl Strommen. For Flute. Book and CD.
Published by Carl Fischer (CF.WF99).
Instrumentalists searching for enjoyable new Christmas season material need look no further. These exciting new collections contain 18 popular holiday favorites in a variety of different styles, from classical, to jazz, to rock, to Latin. Each play-along track on the included CD uses background instruments that will make players feel like they are in the band or part of the orchestra.

As an added bonus, the CD also contains printable PDF files of piano accompaniments for all songs, so that they may be performed in concert or at church. Features favorites such as "The First Noel," "Joy to the World," "O Little Town of Bethlehem," "We Wish You a Merry Christmas," and more. Veteran arrangers Carl Strommen and Larry Clark have teamed up to create this exceptional offering for instrumentalists of all ages looking to play some holiday music just for the fun of it!
Contents:
Auld Lang Syne
First Noel, The
God Rest Ye Merry, Gentlemen
Go Tell It On The Mountain
Greensleeves (What Child Is This?)
Hark! The Herald Angels Sing
Hey Man, Christmas Swings!
Jingle Bells
Jolly Old St. Nicholas
Joy To The World
O Come, All Ye Faithful ("adeste Fideles")
O Little Town Of Bethlehem
O Tannenbaum (O Christmas Tree)
Silent Night (Inspired By "gymnopedie No. 1" By Erik Satie)
Up On On The Housetop
Walts Of The Flowers From The Ballet "the Nutcracker"
We Three Kings
We Wish You A Merry Christmas