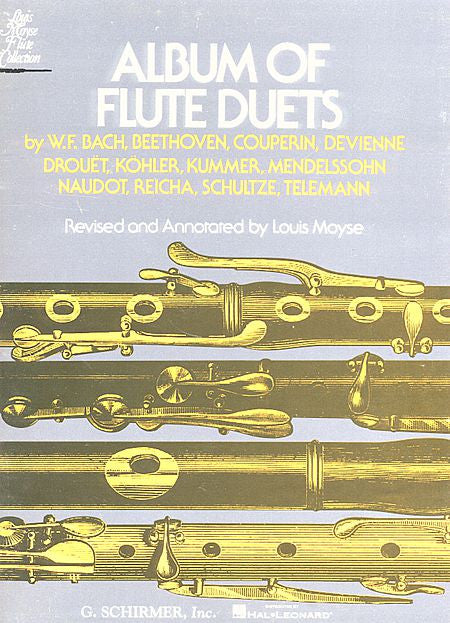 Album of Flute Duets
$14.99
Album Of Flute Duets - Flute (for Two Flutes). Arranged by Louis Moyse. For Flute (Flute). Woodwind Ensemble. Classical Period. Difficulty: medium. Set of performance parts (flute duet). 116 pages. G. Schirmer #ED2497. Published by G. Schirmer (HL.50330160).
ISBN 0793553989. Classical Period. 9x12 inches.
Two flute parts. Contents: Sonata (Wilhelm Friedemann Bach) * Allegro and Minuet (Beethoven) * Concert (Couperin) * Air du Fat puni (François DeVienne) * Duo Concertant (Louis-François-Phillipe Drouët) * Sonatina (Köhler) * Sonatine (Kasper Kummer) * Scherzo from A Midsummer Night's Dream (Mendelssohn) * Sonata (Jean-Jacques Naudot) * Theme and Variations (Anton Reicha) * Sonata (Johann Christian Schultze) * Sonata (Telemann).