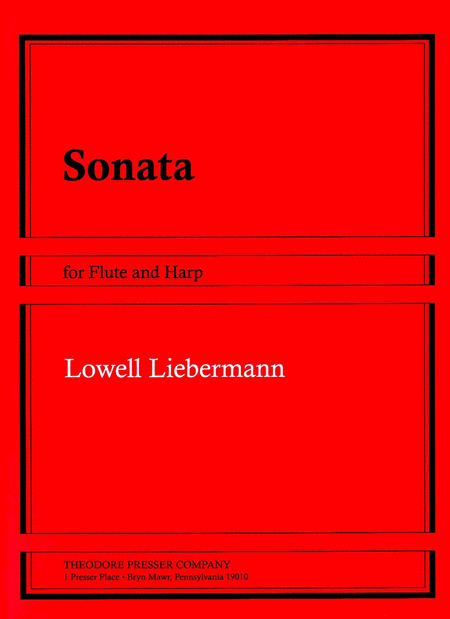 Liebermann, Lowell : Sonata for Flute and Harp, Op. 56
$18.50
Sonata for Flute and Harp by Lowell Liebermann. Commissioned by the Sparx Duo
Liebermann Sonata for Flute and Harp, Op.56
This is a story about a dream come true.
At the 1990 NFA Conference, I was asked by a well-known flutist to turn pages for her accompanist during the finals of the Young Artist competition.  It had become a sub-specialty for me, so I agreed, not knowing the rehearsal would have an impact on events far into the future.
On the program was the flute and piano sonata of Lowell Liebermann.  In manuscript form.  In a wire-bound book.  It was a page-turner's nightmare, actually, but that was not what captured my imagination and interest.
I had never heard music like that before.  Dark and brooding at one moment, and then bursting forth with muscular fireworks the next, the fabulous new effects of rhythm, harmonies, and sheer brilliant technique left me spell bound as I dodged the pianist's left hand.  Exiting the rehearsal, I was able to whistle, hum, and hear almost the entire sonata in my head.  Wondering when the last time that happened might have been, I resolved that when it came time for me to commission a new work, it would be by Lowell Liebermann.
Several years later, my flute and harp duo was awarded the Chamber Music America Residency Grant Award.  During that time, Anne Sullivan (harpist) and I decided that we would commission a work for flute and harp that would be a significant addition to the repertoire.  I thought immediately of Lowell.
Commissioning is a fascinating process.  I recommend it to all musicians.  Being part of this creative process is an experience like no other.  As musicians, we are re-creators.  Just thinking of what it would be like to compose a work unlike any other is mind boggling to me.