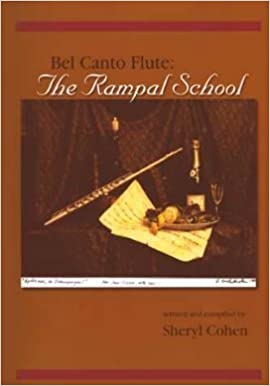 Bel Canto Flute : The Rampal School
$35.95
Sheryl Cohen-Bel Canto Flute-The Rampal School offers an inspiring and artistic application of the teachings of Jean-Pierre Rampal and Alain Marion. The book expresses this through daily studies, etudes, and traditional repertoire used by the men themselves.
Jean-Pierre Louis Rampal is renowned for reinstating the flute as a solo instrument. Rampal became one of the world's most recorded artists, with more than 400 records spanning the essential flute repertoire." It must be a passion – as important as the water you drink or the bread you eat." is how Rampal described his relationship with his instrument.  Alain Marion was considered one of the world's best flute players of the late twentieth century.  Marion studied under Rampal, and through his influence became a soloist for the Orchestre National de France.
The book consists of twelve chapters, exploring the Rampal School's poetic approach to flute playing. This covers expressive phrasing as a foundation to develop music artistry and also creative practice methods. Not to mention the focus on breath control, tone, articulation, and technique, is to give the flutist the materials and knowledge to explore the artist within.
The book includes 34 etudes and 33 solo movements: J.S. Bach's Partita, Sonata in E Minor, C.P.E. Bach's Sonata in A Minor for flute alone, Telemann Fantasias No. 2 and 10. Also movements from works by Blavet, Mozart, Handel, plus studies of Boehm, Andersen, Kohler, Altes, and more.